Manager Narl King has taken on the challenge of a lifetime.
From being unemployed to being hired for 2nd division Bersdorf-Condorf, he hopes to take them to the height of Luxembourg football, eventually getting into the Champions League through division winners and in the meantime, hunting for bargains, improving the club's finances, and making strides for the reputation of football in Luxembourg.
When King arrived, the squad status of Bersdorf-Condorf or (B-C) was abysmal; Only 2 first team players were signed for the club, the rest being un-contracted free agents.
King set about bringing in experienced older players, and the squad is now rife with talent, mostly coming from 30-40 year olds, but these players still have a few years in them, and the intent was to get a squad to play with. 17 transfers have been made, with maybe a couple more in the balance, but blending the squad is now King's main aim in the friendlies before the season starts proper.
Transfers in and out: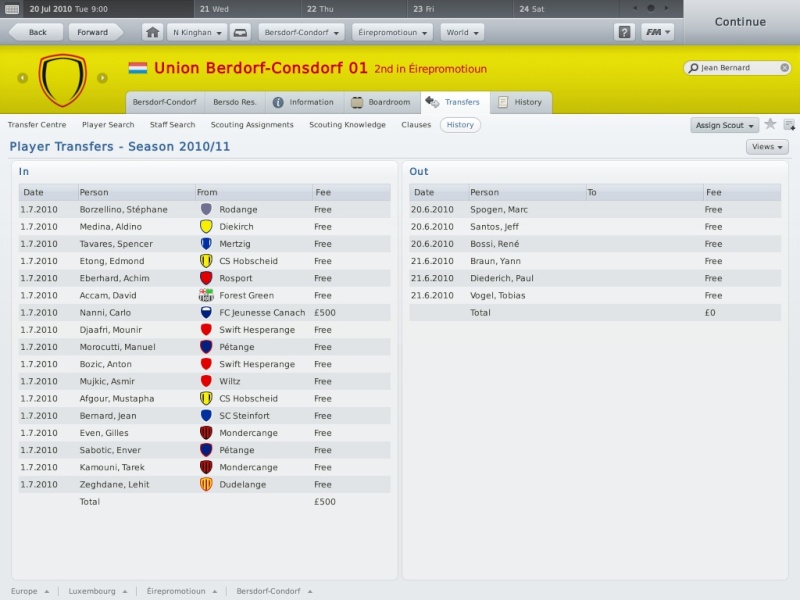 Well, my game froze, so I'm back to just 1 friendly played, but anyway...
King hopes to start his debut in managerial football with a bang, and as his journey progresses I will update you on the state of affairs at Berdorf-Consdorf.