After just one month after gaining my UEFA Pro License, I was given the chance to save Russian Premier Division side Saturn from relegation.
I agreed to a 6 month contract, which will tide me over until Christmas, when the proper jobs become available and I was given a pretty decent £12.5m to spend on fresh faces for the squad.
I've so far splashed out and brought in a few new faces;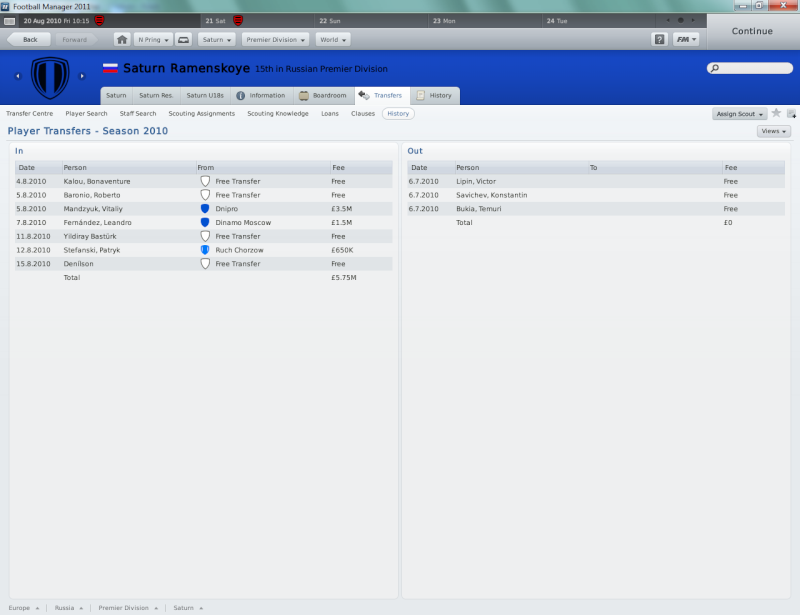 With hopefully Afonso Alves coming in for £1.5m.
My first task was to have a look at the players at my disposal, and having recognized a few familiar faces, I thought this is easily achievable.
After just 6 hours in charge at Saturn, I had my first game, which had to be a crucial one for me. We was at home against Krylja Sovetov, who are currently 5th. We found out why their flying so high after just 8 minutes in, when Juan Carlos Escobar scored a screamer to put the away side 1-0 up. Saturn had pressed and tried hard to find the equaliser but it just wasn't going to happen. We ended up losing 1-0, which I was pretty disappointed about, as I thought we could have had a point by the way we performed.
Our next game is against Dinamo Moscow at home in the Russian Cup, another tough game, but hopefully, I'll have the squad where I want them by then.
So the big game has arrived, and although I had a bit of a nervy feeling, I felt pretty confident that we could get a point. We started the game with a more controlled look to the team, but this was quickly undone as Alexandr Semedov smashed in a 5th minute goal to put the visitors 1-0 up.
We absolutely dominated the next 40 minutes up to half-time but still found ourselves 1-0 behind. I gave them the 'We can win this, lads' team talk, and they came out like they came in. Straight on the front foot, and pushing the Moscow side back. After just 6 minutes, Andrey Karyaka had pulled it back, it was 1-1, and I knew now that we had a great chance.
13 minutes later Saturn centre-back Dmitry Grachev scored an header to put the hosts 2-1 up, and with time ticking away, I made a few changes to waste a bit of time. But on the 89th minute, Dinamo Moscow was awarded a dubious penalty, in which Denis Kolodin would step up and see his penalty saved by Saturn goalkeeper, Antonin Kinsky. This handed Saturn the three points and an incredible victory.
Things were about to get a lot tougher though, as Spartak Moscow were coming on the weekend. So I begun to train the side ready for the big-game on Saturday.
The game started much better than my previous two, as we held out for the entire first half at 0-0. I thought we may finally get the win here, until Welliton slipped in Alex, who rounded the keeper and made it 1-0 to the visitors. Saturn struggled from this, and we found ourselves craving an equaliser, however it did not come, and we eventually lost 1-0.
After the game I was quizzed about my future at Saturn, and if I thought I could turn it around, I replied 'Of course'.
I then noticed that my Saturn side were travelling to Moscow next weekend to play third place CSKA. I was literally browning my pants, as I felt this could be the game where we are completely opened up and ripped to pieces.
The game started in a great fashion, as we showed we wasn't afraid of them, and on the 11th minute, Alexandr Sapeta grabbed a goal for us, we were 1-0 up at CSKA Moscow. I thought I'd leave it a bit and see how things go, and would you believe it, Sapeta notched in another one, as we went in at half time 2-0 up. I told them how pleased I was, and how we need to keep this up, I also told them to keep the ball, and make CSKA work to get the ball.
On the 73rd minute, former Manchester United winger Zoran Tosic scored a sensational goal to take the game to 2-1. The last 15 minutes or so were very twitchy, as I feared we would collapse and let them back in to the game, and I wasn't wrong. CSKA dominated the last 15 minutes, and probably should've won the game during this time, had it not been for Antonin Kinsky, who had an absolute blinder.
We somehow managed to maintain our performance for the injury time, and we sealed an amazing 2-1 win at the home of CSKA Moscow.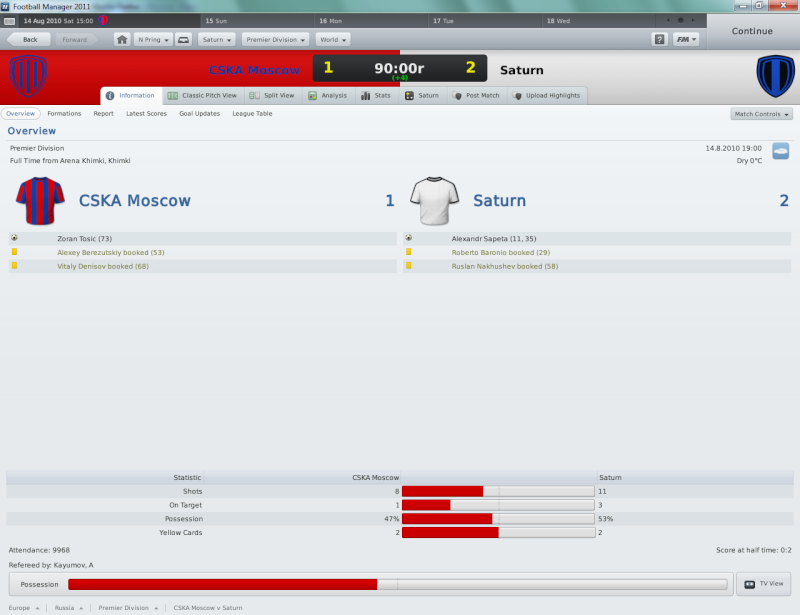 Next up is a relegation battle against Amkar Perm away. I hope I can build on the last game and secure another massive victory for Saturn.