On a cold Russian winter night, in the heart of Moscow, the owner of the team fondly known as the "Army Men", or for those of you not familiar with Russian football, CSKA Moscow, sat alone in his multi-million dollar home, contemplating his targets for a new manager to take his club forward into the 2013/2014 season.
He had watched his Army Men side progress past the EURO cup group stages for the season already, and had watched them also pick up the Russian title, but he now decided that was time for change and a new manager to lead the team to even bigger things.
In front of him was a glass of vodka, a report on various managers, and a summary short-list of his managerial targets. While many of the names were familiar to him; Avram Grant, Guus Hiddink, Owen Coyle, and so on; one stood out above the rest as a name unfamiliar to him. King Narl. With sudden curiosity, he flicked through his reports, and found King Narl's.
"Manager of Blackpool, first arrived in July 2010", read the first line, "Won the league cup in his first season, beating Blackburn 2-0 in the final, allowing his team to qualify for the EURO Cup 3rd Qualifying round the next season". The owner's interest rose, "Managed to get Blackpool to the 1st knockout round, where his team lost to Sporting CP". Not wanting to dwell on the jargon written by his scouts, he glanced down the page to current achievements/statistics.
Record
1st Season: 14th in English Premier Division, League Cup victory.
2nd Season: 15th in English Premier Division, 1st Round Knockouts of Euro Cup reached.
3rd Season: Currently 12th in the English Premier Division, through to the 4th round of the FA Cup.
Swallowing the rest of his vodka in one gulp, the owner picked up his phone and began making some phone calls to his representatives...
***
I woke up this morning, feeling slightly disappointed. My Seasiders team had just been beaten by 2-1 at Man City the day before, after battling hard and coming away with nothing. These were the kind of games I knew we had to try and get a point in order to get into the top half of the league and move forward towards the Euro Qualifying positions. I only wanted the best for Blackpool and had made major moves during the summer for Albrighton, Delph, Rafael and Santo. They were performing well, we were through to the 4th Round of the FA Cup, drawn against Man City at Eastlands, unforunately, and 12th in the league.
As I was eating my breakfast, the phone started to buzz in my pocket and as I read the number, it was an unknown number, definitely not a UK one for sure anyway. I answered cautiously, "Hello?", and the recoil as the other voice spoke was probably noticeable to the caller as the person on the other end replied in a broad Russian accent, "Yes, is this King Narl of Blackpool?". Thinking this was another call from those stupid advertising firms, I said in a dull tone, "Yup, that's me". The Russian man replied, " Ah good, this is Vladimir Vasily speaking from Russia. I would like to interest you in the available job at CSKA Moscow".
I dropped the phone as I stood in shock. Me, being offered a job at one of Europe's elite clubs. I couldn't believe it. Worrying I had ruined my chances by creating a loud bang over the phone to a man who probably had little patience, I swiftly crouched down and picked up the phone, replying without a thought, "I'd very much like to discuss this in further detail". What had I done? Was I really going to leave Blackpool for the sake of my own career? Yes, was obviously the answer my brain had chosen. The Russian replied, "That's excellent news, my representatives will be flying over to Blackpool tomorrow to discuss details with you about your salary, and then they will bring you back to Moscow for a tour round the stadium and facilities. Don't worry, before you ask, your flights, accommodation and moving costs are being fully paid for by me personally. I am looking forward to seeing you. Goodbye".
The next day was frantic, and at times, unbearable, as I rushed through details of my contract with the Russian men who had knocked on my door in the morning. After 2 hours of discussion and lots of thought, I put my signature on the contract to make it official. I was the new CSKA Moscow manager.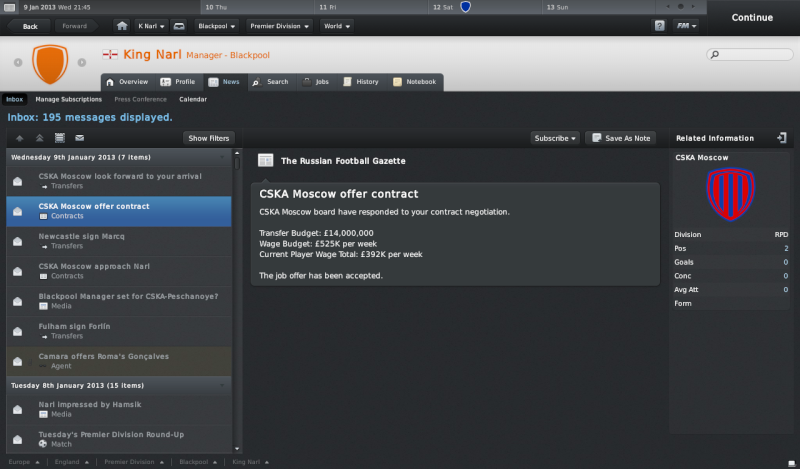 The representatives gave me my flight tickets, and told me that I had a few hours to go to the club and announce my departure to the players and staff, and that they had already spoken to the Blackpool chairman. My visit to Bloomfield Road for what was hopefully not my last, was an emotional one, which I am not afraid to say, produced a few tears. I walked away with sadness in my heart, for the fans had been great to me, and I felt that my job at Blackpool was not entirely over. One day, I vowed, I will return.
***
Watch this space for the next installment in : "The Army Men"